Vòng bi đũa trụ

Giá thị trường: mời liên hệ

Thông tin sản phẩm

Vì sao nên mua hàng tại STD&P

Sản phẩm NSK chính hãng
Đầy đủ giấy tờ CO,CQ gốc
Bảo hành chính hãng
Giá bán cạnh tranh nhất
Dịch vụ sau bán bán hàng chuyên nghiệp
Giao hàng toàn Quốc
Hỗ trợ kỹ thuật 24/7

Mua sản phẩm NSK từ STD&P để đảm bảo sản phẩm NSK chính hãng. Tránh nguy cơ mua phải sản phẩm NSK giả (fake) kém chất lượng.
Thông tin cơ bản về Vòng bi đũa trụ
In bearings of this type, the cylindrical rollers are in linear contact with the raceways. They have a high radial load capacity and are suitable for high speeds.
There are different types designated as NU, NJ, NUP, N, NF (for single-row bearings), NNU, and NN (for double-row bearings depending on the design or absence of side ribs).
The outer and inner rings of all types are separable.
Some cylindrical roller bearings have no ribs on either the inner or outer ring, so the rings can move axially relative to each other. These can be used as free-end bearings. Cylindrical roller bearings, in which either the inner or outer rings has two ribs and the other ring has one, are capable of taking some axial load in one direction Double-row cylindrical roller bearings have high radial rigidity and are used primarily for precision machine tools.
Pressed steel or machined brass cages are generally used, but sometimes molded polyamide cages are also used.
Depending on the existence of ribs on their rings, Cylindrical Roller Bearings are classified into the following types:
Types NU, N, NNU, and NN are suitable as free-end bearings. Types NJ and NF can sustain limited axial loads in one direction. Types NH and NUP can be used as fixed-end bearings.
NH-type cylindrical roller bearings consist of the NJ-type cylindrical roller bearings and HJ-type L-shaped thrust collars.
The inner ring loose rib of an NUP-type cylindrical roller bearing should be mounted so that the marked side is on the outside.
Product List
Cylindrical Roller Bearings (Pressed Steel Cages)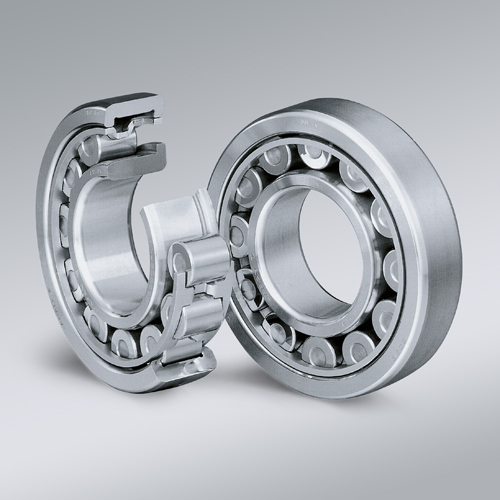 NSK has high load rating "EW Series"
Cylindrical Roller Bearings (Machined Brass Cages)
NSK has high load rating "EM Series"
Full-complement Cylindrical Roller Bearings
Cageless, full-complement cylindrical roller bearings have the maximum possible number of rollers and can sustain much heavier loads than cylindrical roller bearings of the same size with cages. On the other hand, high-speed capability is inferior to the bearings with cages.
The open-type single- and double-row bearings are mostly used in general industrial applications at low speed and under heavy load, and the shielded-type double-row bearings are often used in crane sheaves.
Cylindrical Roller Bearings for Sheaves
Features
Improved seal: Contact seal increases resistance to entry of water or foreign substances.
High load capacity: When used as a sheave bearing, radial and axial load capacities are increased
Corrosion resistance: Phosphate surface treatment improves resistance to rust.
Easy to apply grease: Holes provided on inner ring facilitate grease replenishment, even while the bearing is mounted.
Fewer surrounding parts: With snap rings for the outer ring, fewer parts are required around the bearing for a more cost-effective sheave.
PHÂN PHỐI CHÍNH THỨC

VÒNG BI NSK NHẬT BẢN

HỖ TRỢ KỸ THUẬT

BÁO GIÁ 24/7